Supabets
Supabets Review
Launched in 2008, Supabets needs no introduction. This african powerhouse, owned and operated by Portapa (Pty) Ltd and trading as Supabets group has quickly grown to become one of the, if not the top contender for the favourite sports betting destination within Africa. From what started out as a vast array of land based betting outlets spanning across South Africa, Nigeria, Ghana, Zambia, Zimbabwe and Tanzania, has now grown exponentially to include a multitude of betting channels including web, mobile, USSD and even SMS.
This truly local establishment continues to to push the boundaries of innovation and improvement to ensure that they bring value and convenience at every point of contact to their core consumer.
Supabets OVERVIEW
| | |
| --- | --- |
| Software: | |
| Languages: | English |
| Currencies: | South African Rand (ZAR), Nigerian Naira (NGN), Tanzanian shilling (TZS), Ugandan shilling (UGX), Zambian Kwacha (ZMW) |
| Licences: | Mpumalanga Gambling Board. |
| Countries accepted: | |
| Withdrawal Limits: | Min amount R50, Max amount R5 million |
Bonuses & Promotions
Bet.co.za has an amazing array of ongoing bonuses & promotions, both for that of new and existing players
No Deposit Bonus:
R50 Free No Deposit Sign Up Bonus
R50 Bonus to be rolled over 3 times at 11/10 or better. All Bonus withdrawals will be subject to a minimum deposit of R50. Only single bets can be placed
First Deposit Bonus:
200% First Deposit Bonus Up To R1,000
User to receive 200% of the value of their first deposit, up to a maximum of R1,000. Funds will need to be played four times at odds of 14/10 or better before they can be withdrawn.
Supa7: Claim R70,000 if you manage to go 7 days in a row with a qualifying winning bet on each of the days. Compile sporting multiple bets that feature 7 Legs or more. Each leg must be 5/10 or better
Super Rugby Unlocked: Place a bet of any value on any Super Rugby Unlocked market between Tuesday and Thursday each week and you could win your share of R1,000 bonus
Exclusive Member Features
The world of online sports betting is a very competitive business and this means that bookies need to do anything they can to stand out. Some of the best exclusive member features that Supabets have added are:
Live sports betting
Supabets has a pretty amazing live betting offering, unfortunately there isn't a live stream option available as of yet, but we have no doubts that the way things are going online this will be included sooner rather than later. Supabet has made sure to include functionalities though that are pretty cool, e.g. They have included a full play by play sports analysis dashboard, through this dashboard players can pretty much get as close to every bit of detail regarding a fixture or event barring the actual live picture itself. Players are able to filter through play by play action, see stats and even territory splits by time.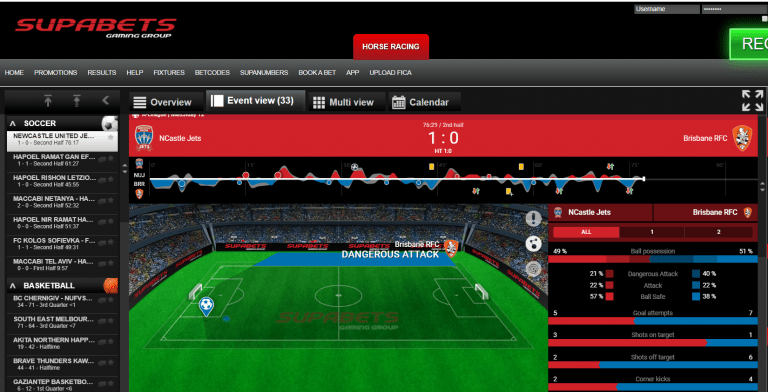 Linking offline Supabets shops to their online portals.
The second thing we love so much about Supabets is that they have done a tremendous job in linking their online services to their extensive offline land based offering. What we mean by this is that whether you are depositing into your account, placing a bet, withdrawing your earnings, or even just reminding yourself of what bets you have placed stakes on, Supabets makes this it accessible for all its member to cross from offline to online and vice versa. If you've won online and you'd like to receive the cash winnings in person, you can go into any Supabets outlet and cash out your winnings.
We love that Supabets has gone out of their way to make the betting experience as seamless as possible for their customers across a multitude of touchpoints and platforms
Online CASINO GAMES
Betting Online With Sportingbet
It's no surprise that the experience that Sportingbet has accumulate in the industry has found its way into the overall practical site design and layout of their website. It is because of this that it gets top spot as best website user experience and design amongst our bookies.
Firstly let's start with the actual layout of the site, a very practical and visually appealing site design, which despite the number of additional site features and offers it includes it doesn't feel cluttered or overwhelming, something which we have noticed in the past when reviewing other bookies, there really is a fine line between showing value and then just plain old clutter.
Sportingbet has really set the benchmark in mixing a perfect blend of visual appeal and practical usability. The team at Sportingbet have consciously emphasised the most important fundamental aspects needed in the player experience to ensure that these are not only easy to find, but even easier to use. Whether you are a first time player or a regular member you will appreciate this simplistic but highly effective site layout.
One of the things we really enjoy about the site is the use of iconography and visual cues such as the sports team jerseys, it just helps to elevate the overall appeal and attraction to the player experience, as well as reduce what can often become a very text heavy design.
Sportingbet do offer more than just sports betting, they also offer a very stylish and highly advanced live games section which includes all of your favourite casino games such as poker, Bingo and Baccarat to name a few. What we really appreciate is how the site has in some way managed to include both sports betting as well as casino affiliate offers all into one site but simultaneously made them feel like their own identity.
Overall we love the professional look and feel of the Sportingbet site, whether you are a novice or an experienced veteran, the way the site has been laid out, the features they provide, and the overall portfolio offering which extends past just online sports betting has created something that just feels very secure, easy to use and just plain awesome in general, a definite bookmaker to check out.
Supabets Mobile Betting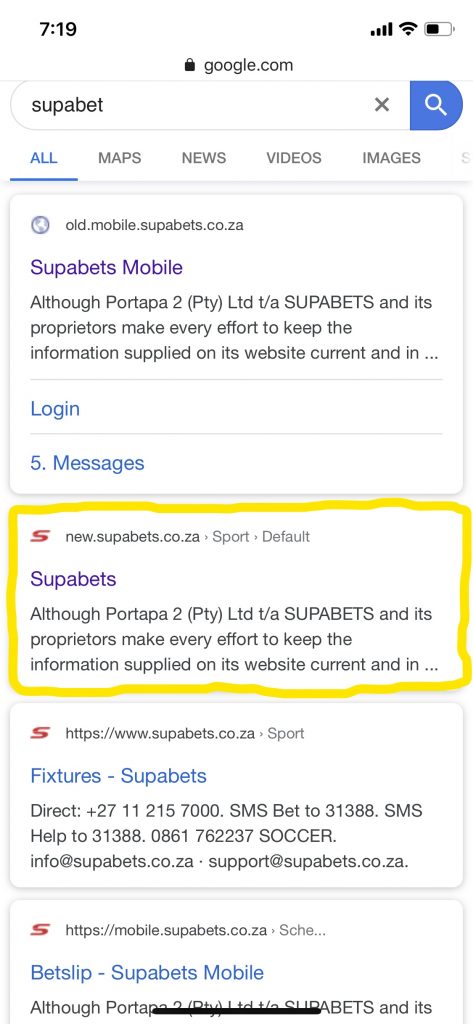 At Supabets players can now bet and pretty much do everything else from wherever and whenever they choose. A mobisite, a mobile app as well as SMS betting are just some of the mobile betting options available to Supabet customers.
To make your life easier we have reviewed each of Supabets mobile betting platforms, below you will find a breakdown for each:
The Supabet mobile website
There are a few things to take note of before you start visiting the Supabets mobile site. First thing is that there is a different site for players from South Africa to that of players who are coming from the rest of Africa i.e. (Nigeria, Zambia, Tanzania and Uganda), we have included the screen grabs as well as the relevant URL's for each so that you know which is which.
Our first impressions of the mobi site is that it is definitely much easier to navigate from a user journey perspective to that of its desktop version.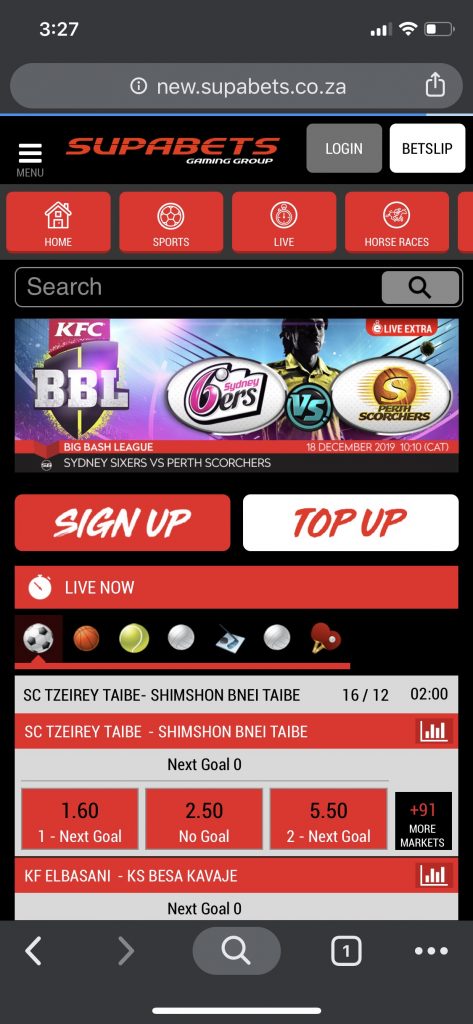 Supabets mobile is perfectly designed to suit any mobile device & operating system, and its simplistic block like structure makes it a breeze when navigating your way around.
When it comes to signing up or logging in via the mobile site you'll be happy to know that this is exactly the same to that of desktop journey, they have included a very easy to navigate sign up button which you really can't miss.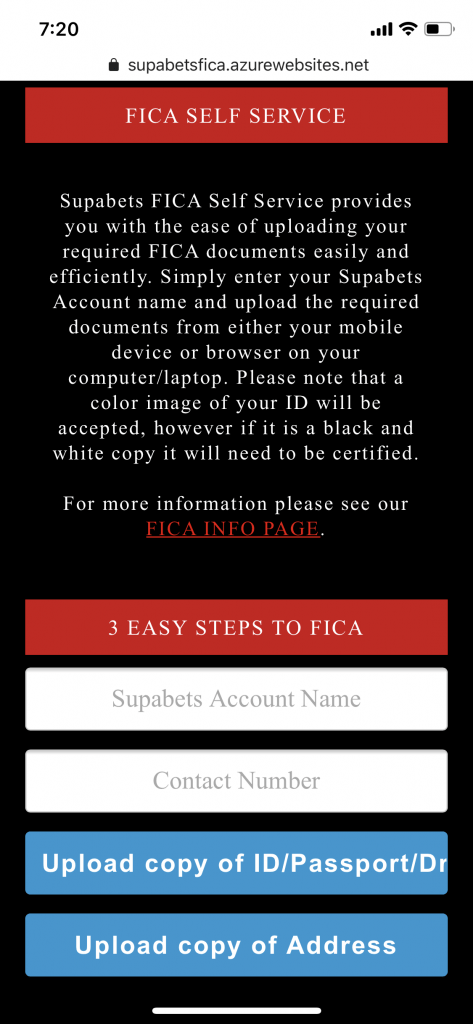 Supabets does require you to send through various FICA documents when registering with them, for this they have created a pretty awesome FICA self service portal that allows you to upload your documents straight from your phone with ease.
Once you've registered and supplied all your FICA documentation you are able to deposit or withdrawal from your account using your mobile device, just remember you will need to have mobile data or internet access in order to process any requests as you will need to be logged into your Supabets account first.
Players from ROA
The second version of the mobile site is available to customers looking to play from Nigeria, Zambia, Tanzania, Uganda.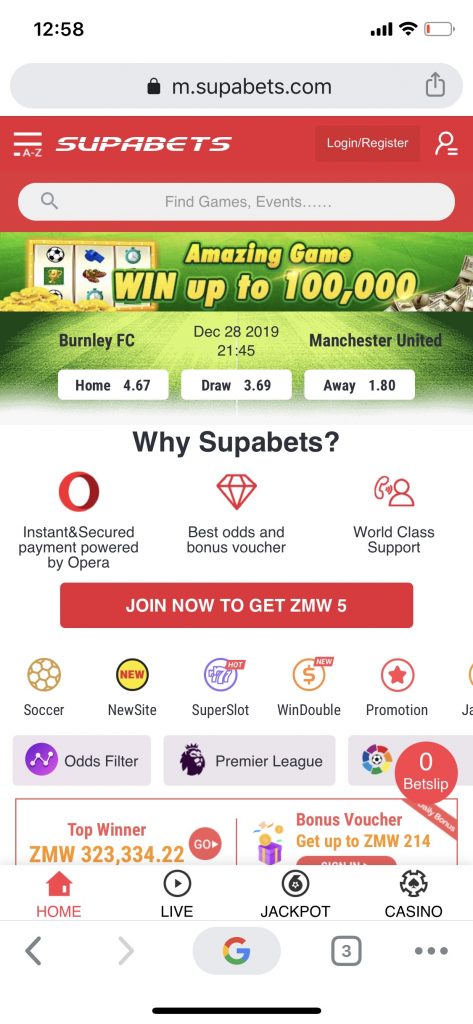 As mentioned the only real difference in the two versions is the layout and look and feel. Barring a few promotions pretty much all the same functions exist on this version to that of the South African site.
The site is great from a user journey point of view though. A clean layout that is easy to navigate.
The Supabets Mobile App
Apps have completely changed the way we engage with brands, and for most brands apps are a unique opportunity to create a community of highly engaged users from which they are are able to interact with safely and securely.
The Supabets app is a little disappointing, first things first, it's actually not an app at all, it's just another site. This "app" isn't available from the apple store nor the play store and can only be located when visiting the standard Supabets site on a desktop, located under the menu heading "app". In our honest opinion however the app isn't necessary, because the mobile site has a really great user experience and is accessible from any device.
Supabet SMS Betting
We cannot think of anything more fitting and genius in today's african market then having the option to bet using mobile SMS, after all we already have SMS banking, SMS payments and even SMS farming functions, so why not the ability to bet on our favourite sporting teams using an affordable, easy to use system like SMS.
When it comes to actually using the SMS betting function with Supabet you will need to already have an active account that has been FICA verified. You will also need to have already deposited funds in your account, this you can do through the mobi site or through your PC.
If you'd like to start using the SMS betting option and you have an account and existing funds then all you need to do is the following:
SMS the word "BET" followed by the STAKE, EVENT CODE and the BET CODE to the number 31388
EVENT CODE = Represents the match you want to bet on
BET CODE = The market you want to bet on
Draw = 0, Home = 1, Away = 2
For Example:
BET 12 1702 1 – This SMS would place a bet of R12 on EVENT CODE 1702 (Champions League, PSG vs Liverpool) for BET CODE 1 (a Home Win)
You can also turn your bet into a multiple by adding more EVENT CODES and BET CODES – separated by a comma.
For example: BET 12 1702 1, 1652 2
This SMS would place a bet of R12 on EVENT CODE 1702 (Champions League, PSG vs Liverpool) for BET CODE 1 (a Home Win) and EVENT CODE 1652 (Champions League, Eindhoven vs Barcelona) for BET CODE 2 (an Away Win)
How to Deposit in to your Supabets account
As mentioned straight off the bat before you can begin placing bets or even deposit you will need to have supplied and been verified for FICA. We've covered this in detail but if you are still unsure you can visit our page on FICA
Once Supabets has verified you for FICA you will then be able to login, search for the deposit button and choose from one of the available deposit payment methods.
Available Deposit Methods
| | |
| --- | --- |
| Banking Method | Deposit |
| SID Instant Deposits (EFT) | Yes |
| Direct Deposits | Yes |
| Supabets Vouchers | Yes |
| iPay Instant Deposits | Yes |
| 1Vouchers (Pep, Ackermans & more) | Yes |
| PayU credit card | Yes |
| Supabet prepaid | Yes |
| OZOW | Yes |
| Peach payments | Yes |
Available Withdrawal Methods:
| | |
| --- | --- |
| Banking Method | Withdrawal |
| Direct Bank withdrawal | Yes |
| Supabet OTP | Yes |
| FNB eWallet | Yes |
| Standard Bank instant Money | Yes |
General info regarding withdrawals
All withdrawals do go through an audit and the following conditions apply:
If the amount is less than R25,000.00 it will take +- 24 hours for your payment to be process, this is if the payment is being made to an FNB, Nedbank, ABSA or Standard Bank account.
If the account is at any other bank, it can take up to 3 working days to reflect in the account.
FICA documents must be submitted for any amount greater than R24,999.00. Once all the correct FICA documents are received, payment will be done within 24 hours.
Amounts greater than R49,999.00 will take at least 3 working days to be processed.
No payments above R25,000.00 will be processed over weekends.
Safety & Security
We all know that Safety and security online is a huge talking point, and never has it been more necessary than when it comes to online betting.
Gambling License
In terms of Supabet the first thing to know is that they are of course registered by the National gambling board, more specifically the Mpumalanga Gambling Board. Registration No. 2009/016148/07. It's imperative that any Bookmaker who is looking to operate within South Africa is registered to the NGB. In a nutshell the NGB is responsible for the governing of gambling activity within South Africa. If a sportsbook is not registered with the NGB we highly recommend avoiding the site.
Website Security
The second aspect of safety and security is to ensure that the site itself is secure. Supabets site is HTTPS secure which means that their is sufficient protection, integrity, and privacy of the data exchanged between a server and a client (usually a browser). HTTPS also authenticates websites and confirms its trustworthiness.
Protection of information
From a personal information protection perspective the main thing is to look out for whether you personal information is being safely stored and not intended for any other purpose than for what you have consented to. Supabets privacy policy does state that they will not utilise your personal information for any other means than what it is intended or stipulated, they also cannot disclose or sell any of your personal data to any 3rd party organisations.
Customer Support
In terms of the support offered to players there is a number of options from which to make use of:
Skype
Whatsapp
Email
SMS line and direct
Site messenger
Unfortunately Supabet does not have a live chat function available on their site. However, they have created an amazing online help section with several how to videos, FAQ's, as well as a fully detailed step by step of the betting process.
Pros / Cons
Extensive portfolio offering that includes Betgames, Supa racing and Supa numbers
Cross channel capabilities between online and land based outlets - whether this be for placing bets or cash outs
High levels of online safety and security
FICA self service portal
Great live betting features
Available to Nigeria, Zambia, Tanzania and Uganda customers
FICA documentation is required before deposit or withdrawals can be made
No live chat support feature
Delayed withdrawal process
Slow customer feedback and support

50% up to R2000 with free spins
Play now